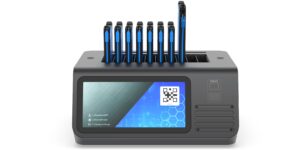 Now you can offer your customers the ability to take a battery pack with them instead of leaving it in a secure locker.  You can charge people hourly or daily. You can make them free-use for events.
Each hard shelled unit holds 10 x 5,000mAh battery packs.  Each pack has both Lightning and USB-C charging cables.
Mechanical locks hold the packs in place so they cannot be stolen.